MAXXON Pontoons Catarafts Rafts QUALITY at REASONABLE PRICE
MAXXON Pontoons Catarafts Rafts! Maxxon fishing pontoons and whitewater cataraft tubes, along with the 2019 Maxxon rafts, now feature welded air holding seams. This means better lifespans than the previous glued seam cat tubes and rafts, but still at a great price. Rocky Mountain brand cataraft tubes also have fairly good price points, but only come in 14′ and sixteen foot sizes. Maxxon not only makes five different tube lengths, they also have two diameters in the 12′, 14′, and 16′ sizes, for a total of eight options. Maxxon tubes are relatively flat, or "low rockered", which allows longer oar frames relative to the length of the pontoon. Less rockered tubes also tend to do better on those flat river stretches in between the rapids. Maxxon pontoons feature two air chambers and four D-rings per tube on the ten through sixteen foot sizes, reliable leafield valves, and chafers top & bottom. The smaller nine foot size is a single chamber tube, with 15.5" diameter, and the D-rings vary from three per side per tube, to four depending on vintage. The nines are not really intended as a whitewater product, but rather for fishing rigs used on more gentle streams. Warranties are five years on all pontoons and Maxxon rafts. Maxxon is a branded product line of the Evergoing Products Group.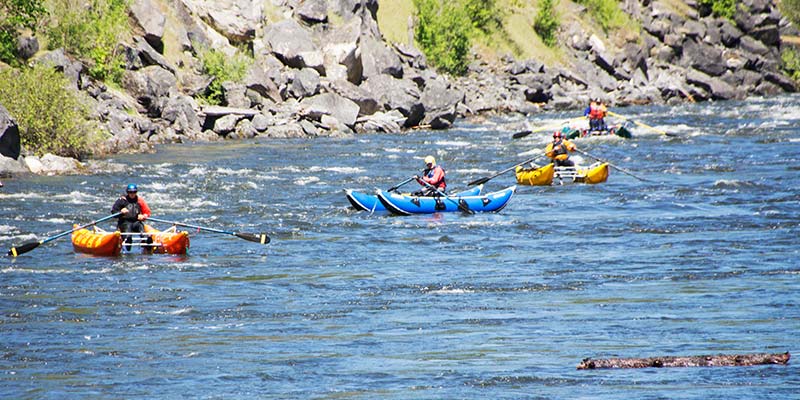 MAXXON Pontoons Catarafts Rafts – Rafts Rowed
Although any Maxxon whitewater raft can be rowed, their relatively low rocker means they also make great paddle rafts, and are very easy to paddle-captain. This gentle bow & stern rise and flat undersides also improve the handling over what many more angular, rockered rafts can provide. MAXXON Pontoons Catarafts Rafts – Rafts Rowed!

The thwarts on all the larger Maxxon rafts are removable to make room for frames. The exact number of thwarts this year appears to be three on the 13′, 14′, and new 16′ sizes, though Maxxon has talked about only having two thwarts at some point. On the two small Maxxon rafts, there is only one thwart, so if you plan to paddle intermediate or advanced whitewater with one of them, it might be worth adding a few footcones. Any footloops shown on older photos should be disregarded. They are no longer installed on the Maxxons due to liability concerns.
It is also possible to set up a simple paddle frame for Maxxon pontoons, and this can work particularly well on the 12′ length, and the ten's if the two paddlers don't exceed about 350 or 375 pounds.
MAXXON Rafts Hardware and Extras
Larger Maxxon rafts have ten 10 D-rings and four lift handles, and six D's and two handles on the 9′ mini XSB290 raft and 10'6" XSB-320 model. There are bail holes every 6″ around the whole floor perimeter, frame chafers on the three larger sizes, and extra wear pads on the undersides of all pontoons and larger rafts. The SB-380 12′, SB-430 14′ and SB-490 16′ have an extra layer of material on the underside of the main tube, for 2200 denier's worth of protection, and the floor bottom is also two layers by it's design. These extra layers, found on many imported pvc rafts, can also make them somewhat difficult to roll tight, but the new Maxxon material is quite supple as pvc goes, so this helps. MAXXON Rafts Hardware and Extras!
The biggest recent change to Maxxon rafts is that the old I-beam air mattress style floors have been replaced with completely flat, higher pressure drop-stitch floors. Drop stitch material inflates flat like an ironing board, and is the same product used for inflatable stand up paddle boards (a.k.a. "SUP's"). The drop stitch Maxxon floors create a flat underside, allowing pushy river currents to more easily slip under the raft. For you, the rower or paddler, this means a better handling raft at a very good price. And for anglers, it provides a flat firm surface that you can stand on while casting.
One thing we do need to mention is that the thickness of drop stitch material can vary from 2" up to 10". Maxxon has used 6" and 8" thicknesses for their full size rafts, but on the little XSB-290 and 320 boats, these drop stich floor pads have been at the thin end of the range on some recent vintages. 2" and 4" thick drop stitch floor pads – especially the 2" – mean that the little rafts can get swampy even without too much weight in the raft. One possible solution is to look at the Rocky Mountain Cloud Nine 9′ raft as an option to Maxxon 290, or the Rocky Mountain (RMR) Storm 10'6" raft as an option to the Maxxon 320 model. The Rocky's have very thick I-beam floors and no issues with weight capacity. On the other hand, the Rocky Mtn brand are heavier and harder to roll up, so it depends on your priorities.
Five Year Warranty
on MAXXON Rafts Catarafts and Pontoons
Five Year Warranty on MAXXON Rafts Catarafts and Pontoons! Maxxons have a five year warranty, which is fairly solid. The company has been around for a very long time now. A budget foot pump is included with all Maxxon inflatables, but you will want something better even if you are using a good electric for 90% of the inflation. Cheap foot pumps cannot be counted on for long.
Maxxon Rafts XSB-430 14′ and XSB-490 16′ rafts are shipped via motor freight, and this can get very expensive if you are east of the Rockies and / or if you have to use a residential address. Due to it's boxed size – though not the weight – the XSB-390 also may have to go motor freight, since shipping it UPS generally incurs a big "oversize 3" surcharge. Email or phone us for a shipping quote on these three rafts. The two smaller sizes, and the cataraft tubes, go UPS ground and the shipping on them is included in the price if you are in the lower 48 states. Get your MAXXON Pontoons Catarafts Rafts while they're in stock. Maxxon does run out of certain models at times.
Rafting The West is a nice information site with lots of boating pictures!
⚠️ Warning: These products are made of PVC and can expose you to chemicals including Di(2-ethylhexyl)phthalate (DEHP) which are known to the State of California to cause cancer and birth defects or other reproductive harm. For more information go to www.P65Warnings.ca.gov